These gluten free morning glory muffins are the perfect "healthy" muffin option! They are made with all gluten free and dairy free options. You will love these moist and flavorful muffins!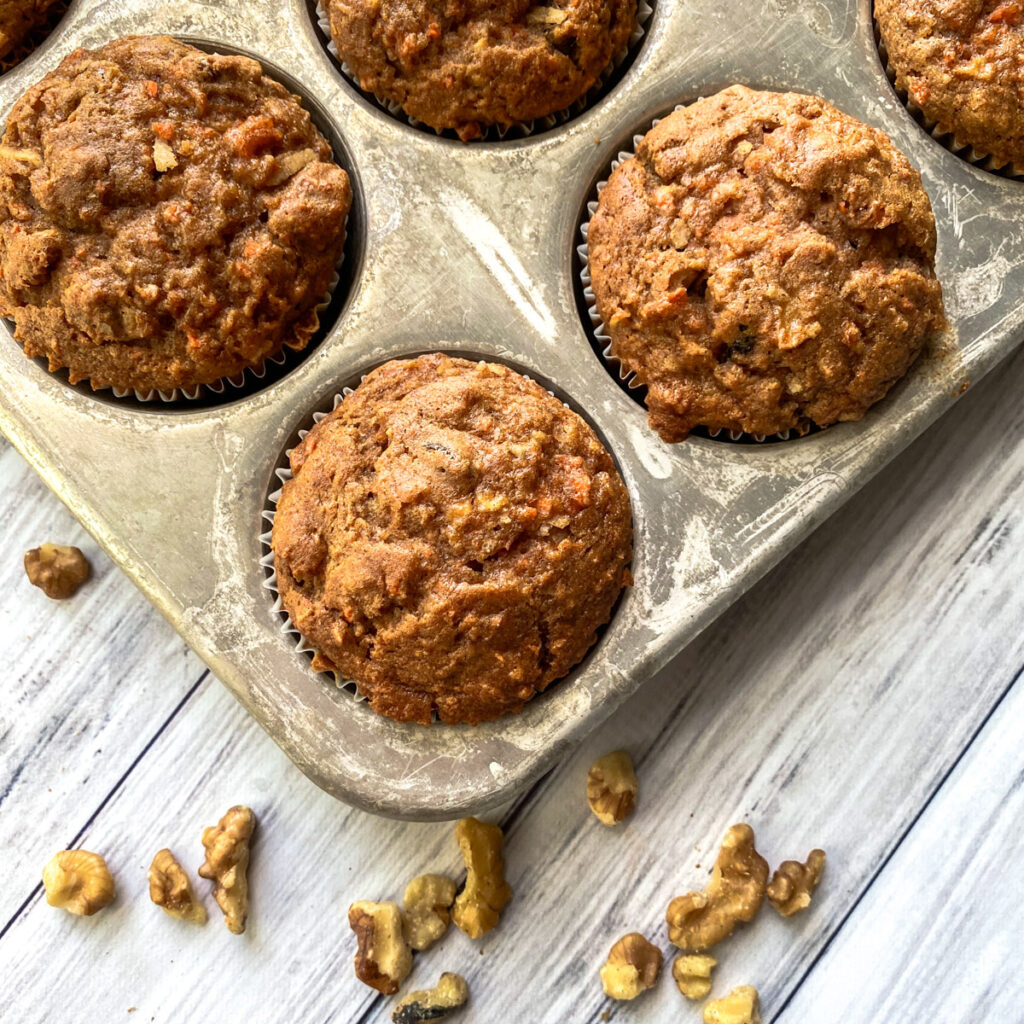 These healthy morning glory muffins can be eaten any time of day despite the name. They make a great morning treat, however they are also an excellent side dish, snack or dessert.
If you're looking for more delicious muffin recipes, check out these gluten free blackberry muffins or these gluten free banana chocolate chip muffins!
Reasons to Love This Recipe
These are a perfect option for a healthy breakfast or nutritious snack.
Most of the sweetness comes from sources other than sugar. The apples, applesauce, raisins and coconut all add extra sweetness.
They taste very similar to a carrot cake or spice cake. (Yet less calories!)
Ingredients Needed
The ingredient list on these healthy breakfast muffins may look daunting, but the muffins are worth it!
Shredded Carrots: baby carrots are easiest if using a food processor to shred. Use whole carrots if grating the carrots using a grater.
Shredded Apples: any type of apple is fine. I used Fuji. Gala or Granny smith are also great options.
Raisins: Add texture and flavor to the muffins
Chopped Walnuts: chopped walnuts add a bit of a crunch to the muffin. This can also be substituted with chopped pecans.
Coconut: shredded coconut adds excellent flavor. I used unsweetened coconut, as the muffins already seemed plenty sweet.
Applesauce: this is use as a substitute for oil. The recipe uses less oil than most, because applesauce adds moistness to the muffins. Use unsweetened applesauce.
Honey: Adds sweetness
Brown Sugar: only ½ of a cup, provides plenty of sweetness.
Eggs: helps the muffins rise and helps hold everything together. This recipe has not been tested with alternatives to eggs.
Orange Juice: Use orange juice that is pulp free. The OJ adds some extra vitamin C to these muffins!
Flour: this recipe has been made with both gluten free flour and whole wheat flour. Both types of flours work excellent. If using gluten free flour, use the flour that is 1:1 Ratio. King Arthur's 1:1 baking flour or Bob's Red Mill 1:1 baking flour work great. Both of these flours have xanthan gum added to them, which is important if subbing gluten free flour.
Cinnamon & Ginger: add flavor, very important not to skip these!
Baking Soda & Salt: helps the muffins rise and adds flavor
How to Prepare the Produce
The carrots and apples should be grated into fine shreds, similar to the consistency of shredded cheese. This can be done using a food processor or a food grater.
To Shred the Apple: Remove the peel, slice into small pieces. Using an apple wedger makes it easy to cut the apple into 6-8 different wedges. Cut the wedges into small pieces.
Place in the food processor and pulse by holding down the pulse button for 2-3 seconds, releasing and then holding the button again. Scrape down the sides until texture is correct. (Do not purée!)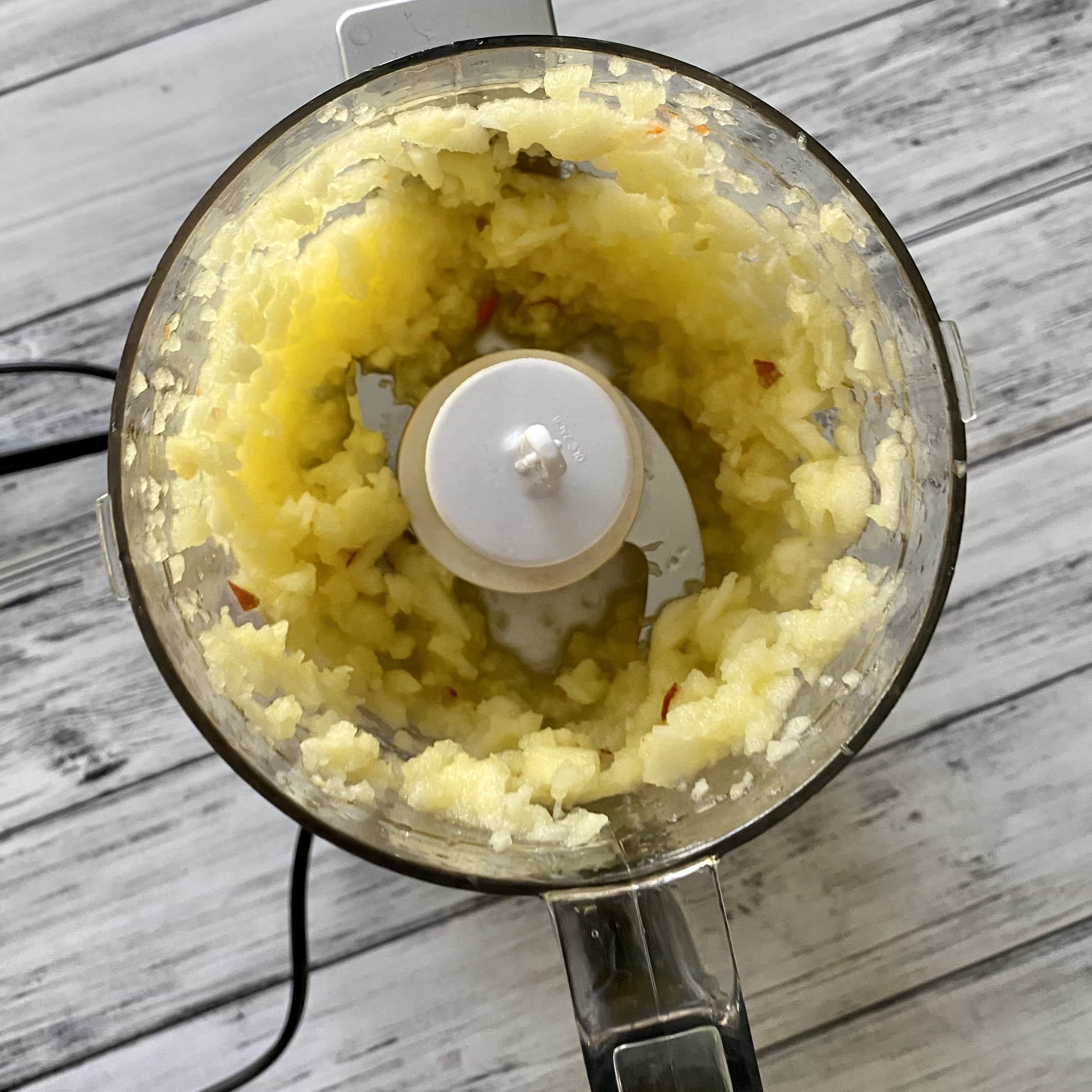 To Shred the Carrots: Slice the carrots into small pieces and place in the food processor. Pulse until the carrots resemble fine shreds.
An alternative way to shred is to run the carrot along the grater in an up and down motion until entire carrot is grated. This works best with whole carrots.
Best Gluten Free Flour To Use
These muffins are very moist, flavorful and not one bit crumbly! I strongly believe that if I served these at a party, no one would even know they were gluten free!
It is important to use a flour that is a 1:1 ratio baking flour. The gluten free flour must contain xanthan gum in the ingredients. Great gluten free flour options are:
Bob's Red Mill 1:1 Baking Flour
King Arthur's 1:1 Baking Flour
Variations and Add Ins
This recipe is customizable and can be adjusted based on your preferences and dietary needs.
Coconut: this is completely optional, but highly recommended! It does not provide a strong coconut flavor. An alternative is to use 1 tablespoon of ground flax seeds
Raisins: the raisins can be left out if desired. Use twice the amount of walnuts if leaving out the raisins
Walnuts: chopped pecans are another option to use in place of walnuts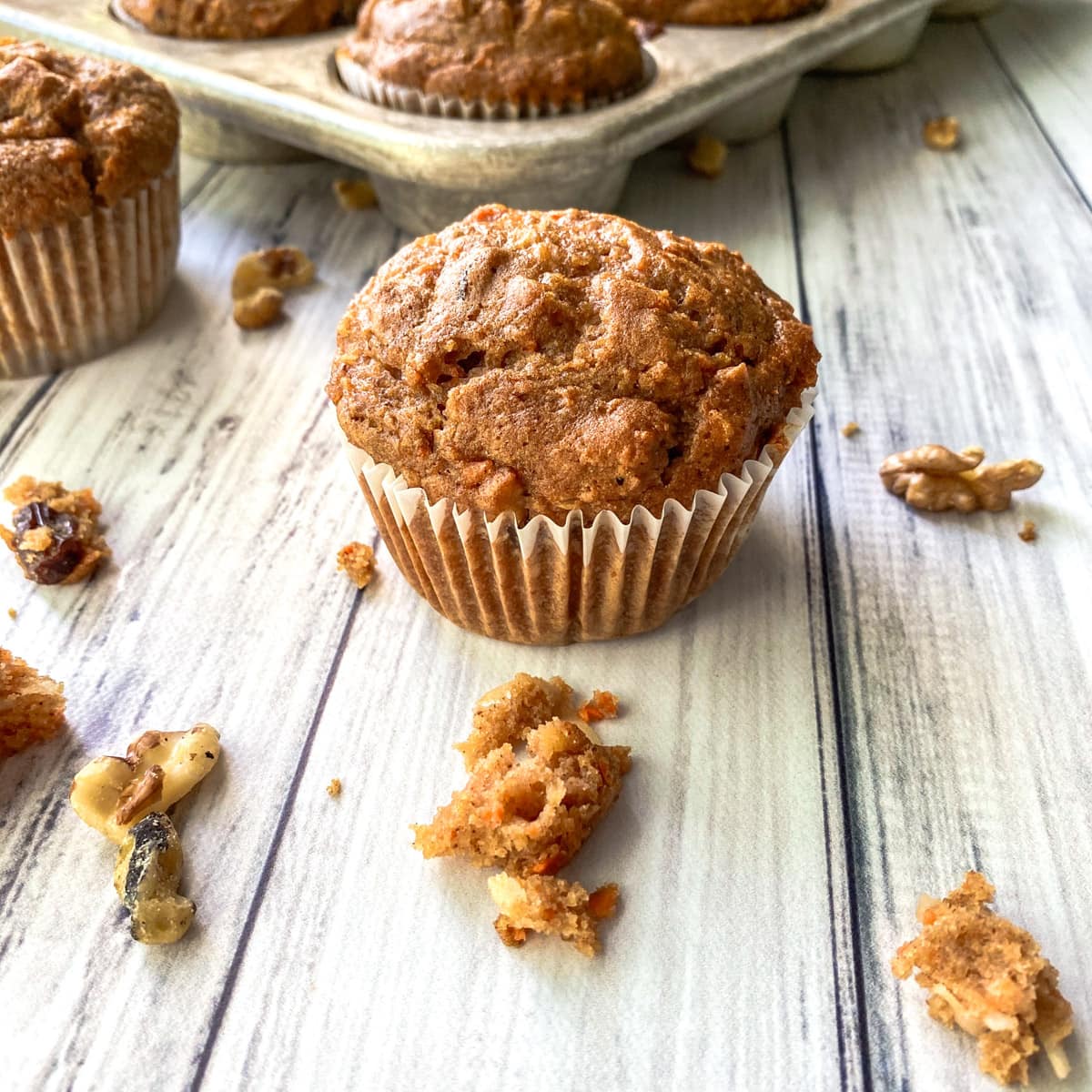 What to Do With Leftover Muffins
These muffins are best when stored in the refrigerator, since they contain so many fresh ingredients. This will help them last longer! Store in an airtight container and eat within 4 days. Heat or let sit at room temperature before serving.
These muffins can also be frozen! Place them in a ziplock bag and seal shut. Freeze for up to 2 months.
Nutrition Information:
Morning glory muffins have 208 calories/serving.

Morning glory muffins are packed with Vitamin A from the carrots. Normal amounts of Vitamin A (within the recommended intake) helps with vision and cell growth (More on Vitamin A).

The muffins use less sugar than a lot of recipes. The applesauce, apples and honey all reduce the amount of table sugar used.

The applesauce is an excellent replacement for oil. While some recipes call for up to a cup of oil, this recipe does not require as much oil due to the applesauce.

These muffins have 3 g protein / serving.

The muffins are healthier than some of your favorite bakery alternatives such as a large chocolate chip muffin or cinnamon streusel muffin. The carrots, apples, walnuts and applesauce are all low calorie and provide good nutritional value.
Even though these muffins contain healthy ingredients, eating multiple muffins will increase your fat, calorie and sugar intake.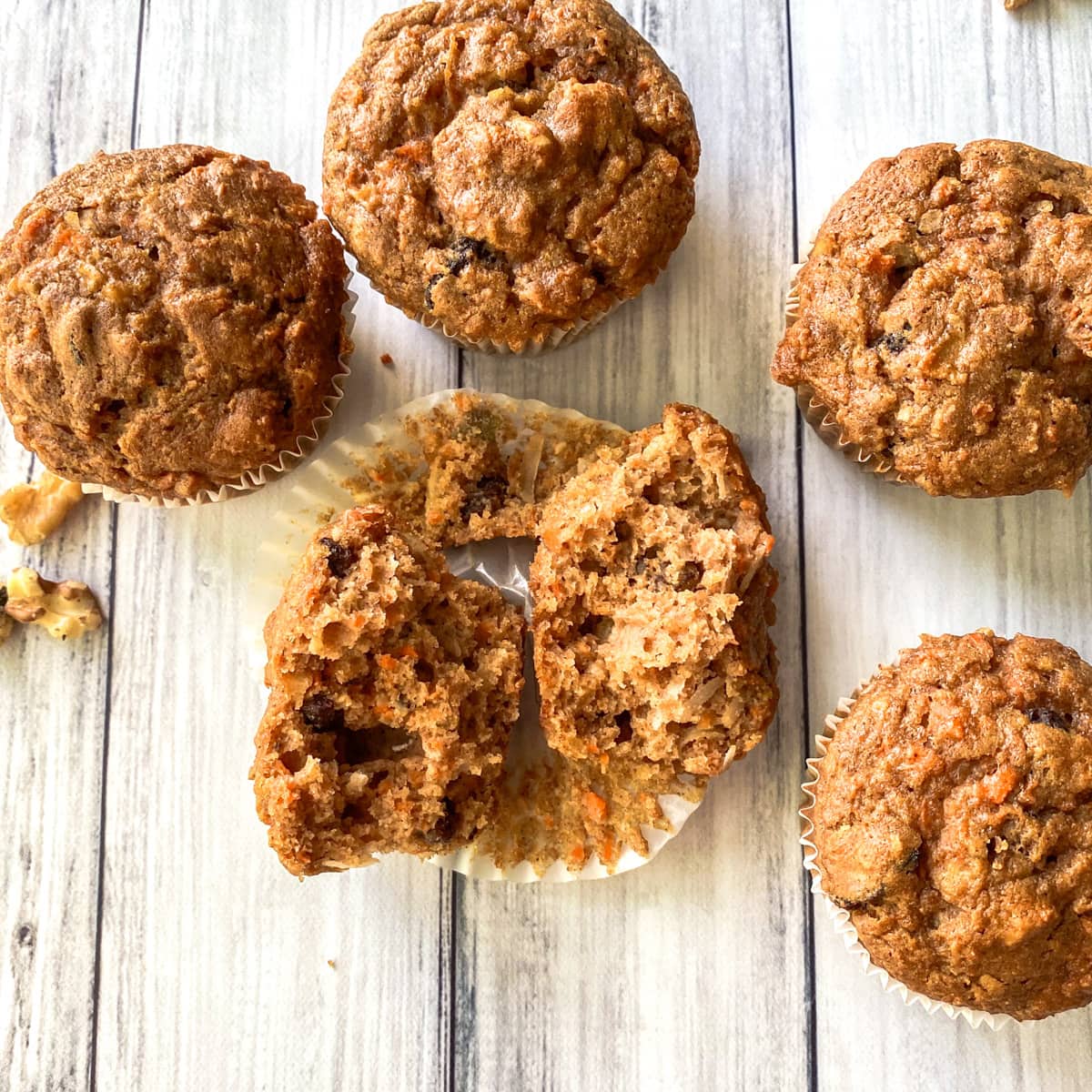 More Favorite Recipes
Gluten Free Morning Glory Muffins
These healthy muffins are loaded with all of the good stuff- raisins, apple, carrots, walnuts, coconut and more. Moist and delicious, don't wait to make this recipe!
Ingredients
Dry Ingredients
2

cups

flour

use whole wheat flour or gluten free 1:1 flour

2

teaspoon

baking soda

¾

teaspoon

ground ginger

2

teaspoon

ground cinnamon

½

teaspoon

salt
Wet Ingredients
3

eggs

large

⅓

cup

canola oil

½

cup

brown sugar

packed

¼

cup

honey

⅓

cup

unsweetened applesauce

⅓

cup

orange juice

1

tsp

vanilla

1

apple

shredded

1.75

cups

shredded carrots

½

cup

raisins

½

cup

walnuts

chopped

⅓

cup

shredded coconut

unsweetened
Instructions
Preheat oven to 425F. Prepare muffin tin by lining with muffin liners and spraying with nonstick spray. (This will make 17 total muffins).

In a small bowl, combine all dry ingredients: flour, baking soda, ginger, cinnamon and salt. Set aside.

In a medium mixing bowl, combine brown sugar and canola oil. Mix well. Add in the eggs and mix with a fork until eggs are beaten and mixture is combined.

Add in the honey, orange juice, applesauce and vanilla. Mix until combined.

Add the shredded apple, carrots, walnuts, raisins and coconuts. Mix well.

Mix the carrot mixture into the flour mixture. Stir until just combined and all ingredients are mixed.

Fill the muffin liners to the very top with batter.

Bake for 5 minutes at 425 and then reduce the oven to 375 and bake for a remaining 17 minutes. (Do not remove muffins from the oven when reducing temperature).

Muffins are done with a toothpick comes out clean when inserted into the middle of the muffins.
Nutrition