What if I told you that your smoothie contained as much calories and sugar as a soda pop? In fact, some smoothies may have even more sugar than a soda!
Smoothies are often viewed as a popular health food or sometimes even consumed as a meal replacement. The sad truth is, a lot of smoothies are packed with sugar and calories. The key to making a healthy smoothie is adding the right ingredients. Once you learn how to make a healthy smoothie, it will become second nature and be a great way to consume all of your nutrients in one drink.
My favorite thing about smoothies is that the flavors are almost endless! It's so difficult to get tired of smoothies, because you can simply change it up by adding a different fruit or ingredient.
Are smoothies healthy?
Let's dive into what makes a smoothie healthy versus how to determine if a smoothie is less healthy. There are a couple of key indicators to watch for, particularly in the ingredients that are used.
Ingredients that make smoothies less healthy
Watch out for smoothies that are made with a fruit juice or ice cream, as this causes them to be very high in calories and sugar. Extra ingredients can also add sugar, such as granulated sugar, honey, chocolate syrup or preserves. Smoothies can also be made with whole milk, which adds extra calories.
If you are interested in learning more about limiting sugar, check out this article on foods to kick your sweet tooth.
Signs a smoothie is healthy
Look for smoothies that have "real fruit" as opposed to a fruit juice. Check to see if a smoothie has vegetables added. Other health benefits are low added sugar.
Ingredients needed for a healthy smoothie
There are 6 basic ingredients required for any healthy smoothie. By following this standard recipe, you can create almost any flavor of smoothie, and still have a healthy drink. Adding these 6 components will help to provide a variety of nutrients, protein, healthy fats all in one drink.
Vegetables
Fruit
Healthy fat
Liquid
Protein
Healthy Extras
Vegetables
Any type of vegetable can be added to a smoothie, however some veggies taste better and blend better than others. Four veggies that taste great in smoothies are as follows:
Spinach
Kale
Cucumber
Pumpkin puree
If hesitant with adding a vegetable to your smoothie, start with spinach. Spinach is a great option because it blends well, does not affect the texture of the smoothie and if mixed with a fruit, you cannot taste the flavor of the spinach. For a single serving smoothie, add 1 cup of vegetable if it is leafy (kale or spinach) or ½ cup of the vegetable if not leafy (Cucumber or pumpkin puree).
Fruit
Freeze the fruit for a few hour prior to make a smoothie for an ice cold smoothie. This helps so that less ice is needed, and the smoothie retains it's flavor better. Use 1 cup of fruit total if making a single serving smoothie. Common fruit options are listed below, mix and match to make your favorite combination!
Banana
Blueberries
Raspberries
Pineapple chunks
Mango chunks
Protein
Add protein to make the smoothie a balanced meal option. Here are some idea's for increasing protein:
Use 1 scoop of protein powder (I prefer the whey protein powder made by Bio-Chem, however any brand will work
Use skim milk (omit other liquid if using skim milk as your protein). Skim milk has 8 grams of protein per cup, versus other liquids such as Almond milk, which only provide 1 gram protein per cup.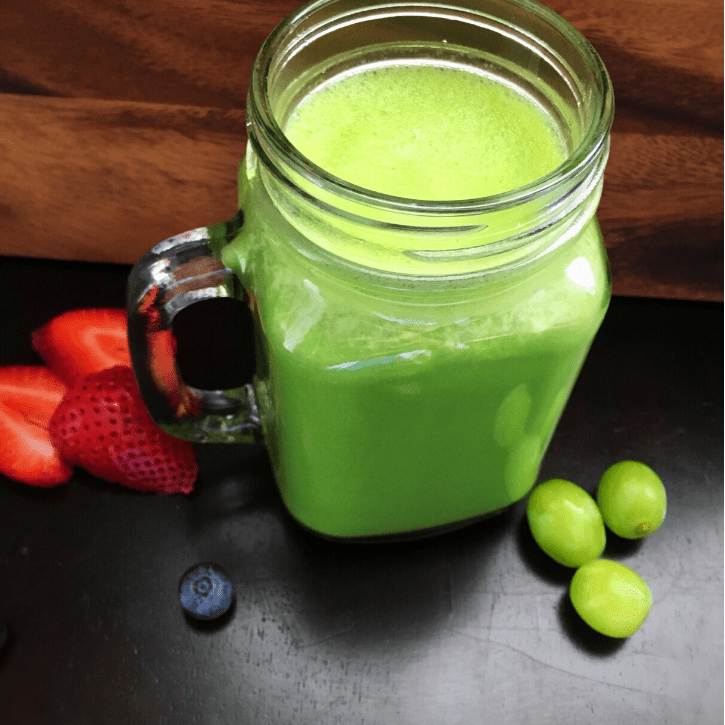 Healthy Fat
Add a form of healthy fat to your smoothie to make an extra healthy smoothie. Healthy fats help your body absorb vitamins and nutrients better. Use 1 tablespoon of fat per serving of smoothie. Here are some ideas for healthy fats:
Chia seeds
Ground flax seeds (flax seeds must be ground for your body to absorb them)
Peanut butter
Almond butter
Liquid Source
Add a liquid to the smoothie to make it blend better and to create a smooth consistency. Add 1 cup of liquid per single smoothie serving. Almost any liquid will work, however if wanting to keep the smoothie lower in calories, choose an unsweetened almond milk or water. Pick green tea if you'd like a caffeine boost!
Unsweetened vanilla almond milk
Unsweetened vanilla soy milk
Skim milk
Water
Unsweetened green tea
Extras
Add in any extras as desired for additional flavors. Start with 1 teaspoon and increase as desired.
Cinnamon
Cocoa Powder
Honey
How to meal prep a smoothie
Smoothie are a great way to meal prep breakfast the night before. Place all smoothie ingredients in the blender cup, refrigerator overnight, pull out the morning of and blend. Add a couple ice cubes before blending in the morning to make an icy treat!
Banana Nut Protein Smoothie
Banana smoothie packed full of protein and healthy vegetables. Tastes just like cinnamon bananas!
Ingredients
1

cup

spinach

1

cup

unsweetened almond milk

1

frozen banana

1

tablespoon

Almond butter

½

scoop

vanilla protein powder

1

teaspoon

cinnamon

4

almonds to garnish on top
Instructions
Combine spinach and almond milk in blender. Blend for about 20 seconds, until smooth and no chunks remain.

Add Frozen banana, almond butter, protein powder and cinnamon. Blend until smooth.

Garnish with 4 almonds on top. Consume immediately!
Notes
Calories: 340 / Fat: 15 grams / Carbs: 35 grams / Protein: 25 grams
TIP: Sub peanut butter in place of almond butter for a different flavor. 
TIP: I use vanilla whey protein by Bio-Chem. Feel free to use any brand you desire! 
Nutrition
Check out these other tasty Treats: