Southwest quinoa salad is flavorful, easy to make and packed with healthy ingredients! This easy salad recipe is a Mexican inspired dish that the whole family will love!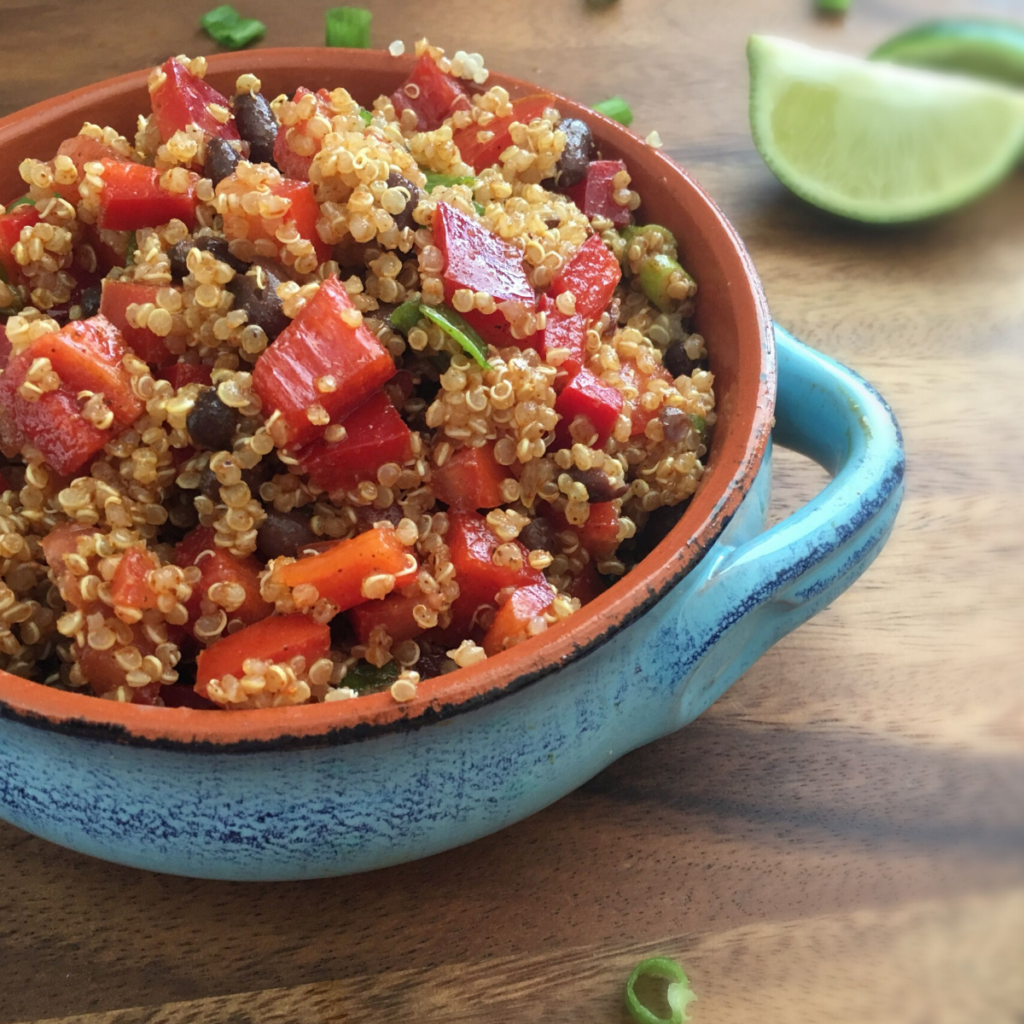 Have you ever wondered what else you can do with quinoa, besides just eat it plain? This salad is a great way to dress up your normal quinoa dish! This can be eaten as a side dish or a main entree. This recipe tastes great cold, however it can also be served warm!
Is Southwest Quinoa Salad healthy?
This salad contains olive oil, which is considered a healthy fat. Olive oil and other healthy fats help your body better absorb the vitamins found in the vegetables.
Southwest Quinoa Salad provides 9 grams of protein per serving. The quinoa and black beans provide protein.
This quinoa salad contains 6.1 grams of fiber per serving. The black beans are a great source of fiber!
Find out more health benefits of quinoa!
Let's make some quinoa salad
Start by rinsing the quinoa if indicated on the package. Quinoa must be rinsed because it is often coated with something called Saponin. This gives quinoa a bitter taste. I use a fine strainer called a seive. It has very fine holes which prevents the quinoa from going through the cracks, yet still allows you to wash it.
Cook and cool your quinoa according to directions on the package. Once the quinoa has cooled, mix in the diced peppers, scallions, tomatoes and black beans.
In a separate small mixing bowl, combine the olive oil, lime juice, garlic powder, cumin, chili powder and onion powder. Mix until combined. Mixing these ingredients separately will ensure they are evenly mixed into the salad.
Once the spice mixture is combined, pour over the quinoa and bean mixture. Mix gently until evenly coated. Serve cold!
Southwest Quinoa Salad
This isn't your typical salad! Southwest Quinoa salad is a Mexican inspired salad bursting with flavor and nutrition!
Ingredients
1

cup

quinoa

uncooked

2

cups

water

1

large red bell pepper

½

cup

scallions, chopped

1

can (15 oz)

black beans

drained and rinsed

4

roma tomatoes

¼

cup

olive oil

2

teaspoon

cumin

2

teaspoon

chili powder

½

teaspoon

garlic powder

½

tsp

onion powder

juice from 1 lime
Instructions
Rinse quinoa in a sieve until water runs clear.

Combine quinoa and water in a medium sauce pan. Bring to boil. Once boiling, simmer for 20 minutes over low heat. Set aside to cool.

Dice the tomatoes, scallions and red bell peppers.

Add the diced tomatoes, scallions and peppers to the cooked and cooled quinoa.

Add the drained and rinsed black beans.

In a separate bowl, combine olive oil, cumin, chili powder, garlic powder, onion powder and lime juice. Mix well.

Pour over quinoa mixture.

Mix until salad is evenly coated.
Notes
Calories: 230
Protein: 8.2g
Total Fat: 9.1g
Saturated Fat: 1.0g
Monounsaturated Fat: 5.0g
Polyunsaturated Fat: 0.8g
Sodium: 304 mg
Fiber: 6.1g
Nutrition facts may vary based on product brands used. 
Nutrition
Check out these other tasty sides!