This air fryer tilapia recipe is an easy dinner idea that can be prepared in less than 15 minutes. The tilapia is seasoned with herbs, parmesan cheese and olive oil to create the perfectly flavored fish.
This air fryer tilapia is so delicious! All you have to do is season it, pop it in the air fryer and wait for it to cook. I love making this recipe because it's so easy! No need to stress over weeknight dinners with this easy recipe!
Looking for more fish recipes? Check out my air fryer salmon , salmon pasta with cream sauce or teriyaki salmon bowls!
Jump to:
Reasons to Love This
This air fryer tilapia is an easy weeknight dinner idea. It takes less than 15 minutes to prepare and cook.
The tilapia fish has a very neutral flavor and allows us to add extra seasonings, such as Italian, parsley and parmesan to make a very flavorful fish!
This recipe is a great way to make fried fish healthy!
Ingredients Needed
Tilapia: use 2, 4 oz. filets. Either fresh or frozen fish will work, however cook times will be longer if the fish is frozen.
Olive oil: helps the spices stick to the fish. An alternative option is canola oil.
Parmesan cheese: use the grated, canned parmesan cheese. This adds flavor to the fish.
Spices: Garlic, salt, oregano, parsley and Italian Seasoning: I used all dried herbs out of convenience. Fresh garlic and parsley can be substituted; amounts needed will vary.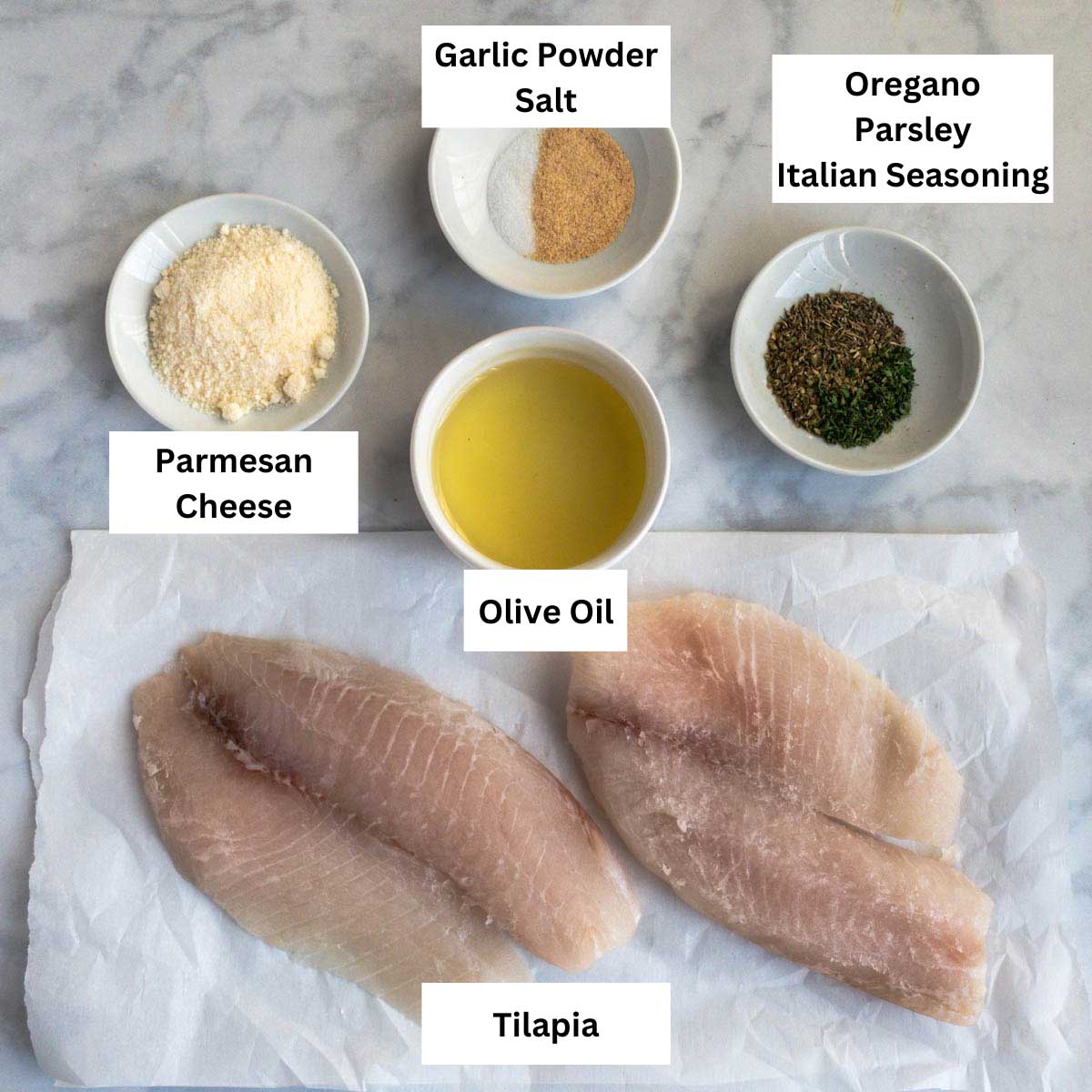 How to Choose A Good Piece of Tilapia
It's important to choose a fresh piece of tilapia. Here's a few things to consider:
Color: the fish should be white in color. There should not be any large brown marks or bruising.
Smell: There should not be a strong fishy smell.
Expiration date: If purchasing tilapia that is packaged, check the expiration date or use by date and look for a package that has a long shelf life, as this will be the freshest fish.
Check the seafood watch guide. This website gives good recommendations on type of fish to purchase.
Step By Step Instructions
Spray non stick pan release to the bottom of the air fryer basket to help prevent the fish from sticking. Preheat the air fryer to 375F. While the air fryer is preheating, brush the olive oil on the fish using a pastry brush.
Combine the seasonings and sprinkle evenly over the top and sides of the fish. I've found it's easiest to use my hands and pat the seasoning onto the fish so that it does not fall off. Use a generous amount of seasoning.
Cook the fish for 8 minutes. There is no need to flip the tilapia. Remove from the air fryer and serve warm.
Note: the cook time may vary based on brand of air fryer and thickness of the tilapia.
Frozen Tilapia in the Air Fryer
This fish can also be cooked from frozen. Add four extra minutes to the cook time. If the fish is still not done, continue to cook, checking it every two minutes.
How To Tell If Tilapia Is Done
Cook the tilapia to a temperature of 145F, according this food safety chart. The temperature can be tested by placing a meat thermometer into the thickest part of the fish filet.
In addition to taking the temperature, the cooked fillet will appear white in color. It should should have a somewhat flakey texture.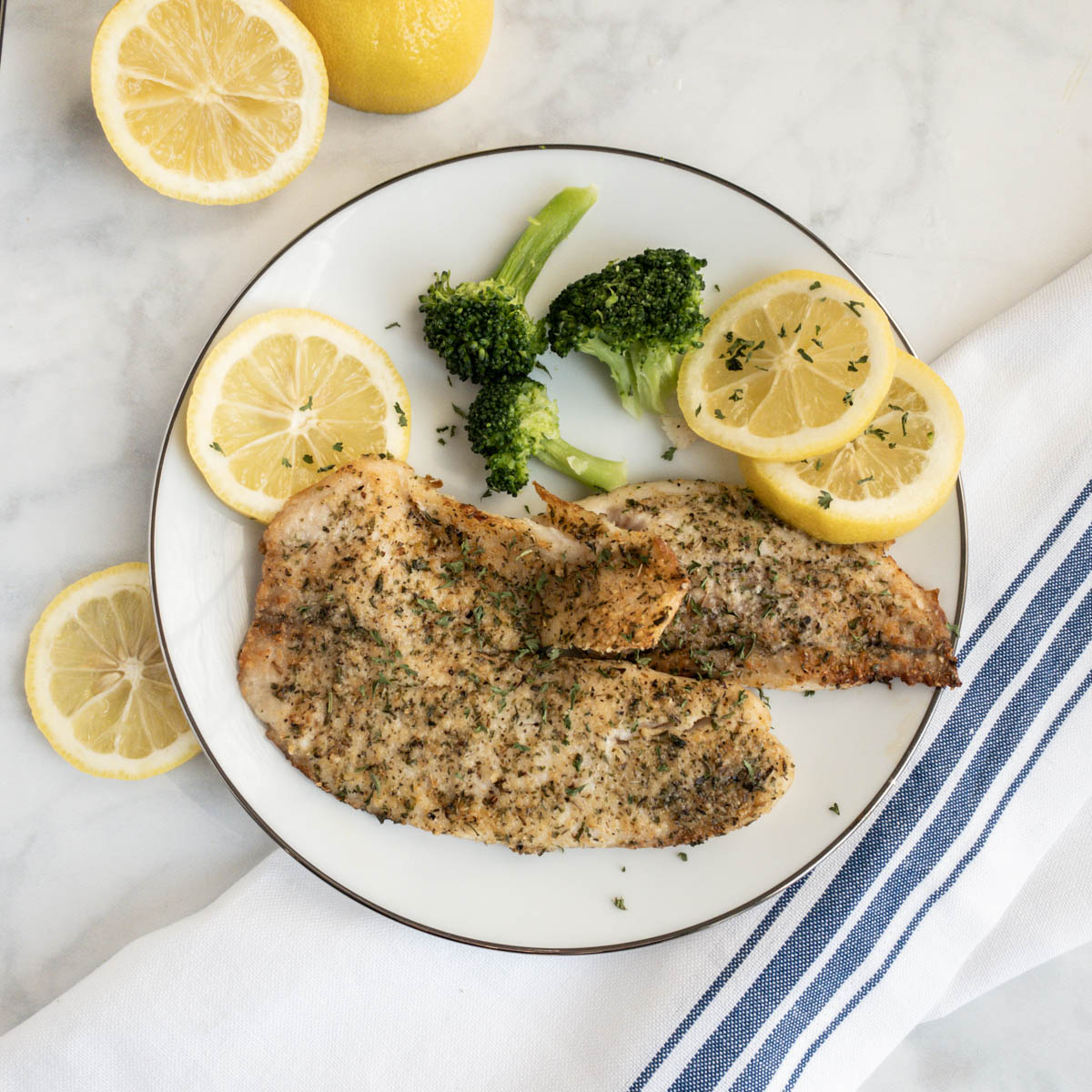 How to Serve the Tilapia
Tilapia goes great with mashed potatoes and fresh fruit.
Serve the tilapia with a side of rice and some steamed broccoli.
Cut the tilapia into pieces and serve with corn tortillas and cheese.
Place the tilapia on a bed of lettuce and serve with grape tomatoes and cucumbers to make a salad.
Top with some fresh, homemade dill aioli sauce.
Leftovers
I personally think tilapia tastes best fresh, and try to eat it right after cooking. Sometimes I will prep the fish and cook in smaller batches so it is fresh when I want to eat it. If you do have leftovers, here's safe storage instructions:
Refrigerator: store the tilapia in an airtight container for 2 days in the refrigerator.
Freezing: I would not recommend freezing the fish after cooking, as the texture and quality will not hold up well.
Reheating: place the tilapia in a microwave safe dish and cook in 30 second intervals until the tilapia is hot. This can also be reheated in the oven. Place on a cookie sheet and bake in the oven at 350F for 8 minutes or until hot. (Experts recommend reheated food reaches 165F).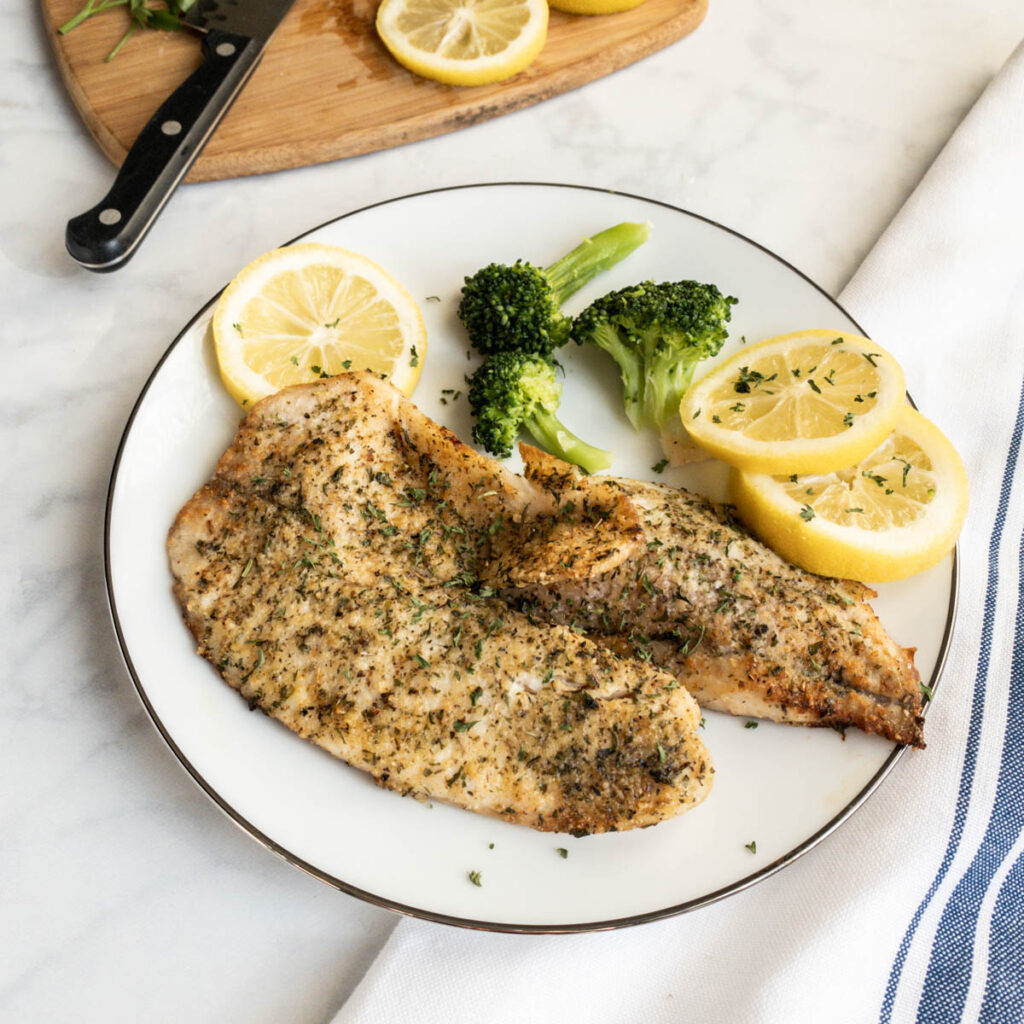 Why Cook Tilapia in the Air Fryer?
Tilapia is a light and delicate cut of fish, so it works best when its cooked in an air fryer, on the stove or in the oven. One benefit to air frying tilapia is that it's a healthy way to cook the fish. The air fryer does not require any extra oil, which is often used in deep fried fish.
Another benefit to using an air fryer for cooking tilapia is that it's a quick and easy way to cook the fish. This recipe takes less than 10 minutes to cook a piece of fresh tilapia. There are no dishes to clean after cooking the fish, other than washing out the air fryer.
Frequently Asked Questions
Can I Cook Frozen Tilapia in the Air fryer?
Yes! Simply increase the cooking time by 4 minutes. Do not add the olive oil or seasonings until after the fish has been in the air fryer for 4 minutes. This allows it time to defrost and the seasonings will stick better to the fish.
Do I need to Flip the Fish?
There is not need to flip the tilapia. The air will circulate throughout the air fryer and evenly cook all parts of the fish.
Related Seafood Recipes
Air Fryer Tilapia
This air fryer tilapia is seasoned with parmesean cheese, garlic and herbs. It takes less than 15 minutes to make!
Ingredients
2

medium

tilapia filets

about 8 ounces

1

tablespoon

olive oil

½

teaspoon

garlic powder

½

teaspoon

parsley

dried

½

teaspoon

Italian seasoning

½

teaspoon

oregano

¼

teaspoon

salt

1

tablespoon

parmesan cheese
Instructions
Preheat air fryer to 375F. Spray the air fryer basket with non-stick pan release spray.

While the air fryer preheats, brush olive oil on the top of the tilapia filets

In a small bowl, combine the garlic powder, parsley, Italian seasoning, oregano, salt and parmesan cheese. Mix.

Sprinkle the seasoning mixture evenly over the fish.

Once the air fryer has preheated, add the tilapia to the basket, keeping the seasoned side up. Fish should lay flat and not be overlapping.

Cook for 8 minutes. Remove from air fryer using a spatula. Fish is done when it reaches a temperature of 145 F when tested with a meat thermometer.
Notes
If cooking from frozen, add 4 minutes to the cook time. 
Note: the cook time may vary based on the brand of air fryer and thickness of the fish. The fish is done when it reaches 145F when temped with a meat thermometer. Fish should be white and flaky.
Nutrition
Calories:
240
kcal
|
Carbohydrates:
1
g
|
Protein:
35
g
|
Fat:
11
g
|
Saturated Fat:
2
g
|
Polyunsaturated Fat:
1
g
|
Monounsaturated Fat:
6
g
|
Cholesterol:
87
mg
|
Sodium:
420
mg
|
Potassium:
538
mg
|
Fiber:
1
g
|
Sugar:
1
g
|
Vitamin A:
39
IU
|
Vitamin C:
1
mg
|
Calcium:
63
mg
|
Iron:
1
mg