This easy air fryer tortilla pizza recipe requires almost no cooking skills and is ready to eat in less than 10 minutes? Simply top a tortilla with sauce, cheese toppings and it's ready to cook! This recipe is kid friendly and toddler approved!
This easy tortilla pizza is a quick and easy solution for pizza cravings! Cooking it in the air fryer allows the bottom to become crispy, similar to a thin crust pizza. Plus, you don't have to heat up the oven or the stove just to make an individual pizza. This recipe is the perfect last minute dinner solution.
Pair this tasty air fryer tortilla pizza with an easy side salad, such as this spinach caprese salad. It also goes well with a side of sweet potato fries or healthy apple dip! Or, you could do the classic combo of pizza and wings (honey chipotle flavor)!
Jump to:
Reasons to Love This Recipe
It's easy to make: it takes less than 10 minutes to prep and cook!
This pizza is kid friendly - it's so easy to make that even your kids can do it!
No special ingredients are required- don't worry about making a crust
It is healthier than a normal pizza! You can also customize the crust by using a gluten free tortilla or a low carb tortilla.
Ingredients
Tortilla: this works best with a flour or whole wheat tortilla. You can also use corn tortillas, however sometimes these tend to fall apart.
Pizza Sauce: use your favorite tomato sauce! You can also use olive oil or alfredo sauce instead.
Cheese: use a mozzarella shredded cheese.
Additional toppings: pepperoni, sausage, peppers, mushrooms or bbq chicken are all great options
Step by Step Instructions
Preheat the air fryer to 400F.
Once preheated, spray the bottom with a nonstick pan release spray. Add the tortilla to the bottom. Next add a small amount of sauce to the middle. Spread evenly, but leave about ½ inch of room from the edge.
Next add any extra toppings and then add the cheese last. Cook for 3-4 minutes. Use two spatulas to remove from the air fryer.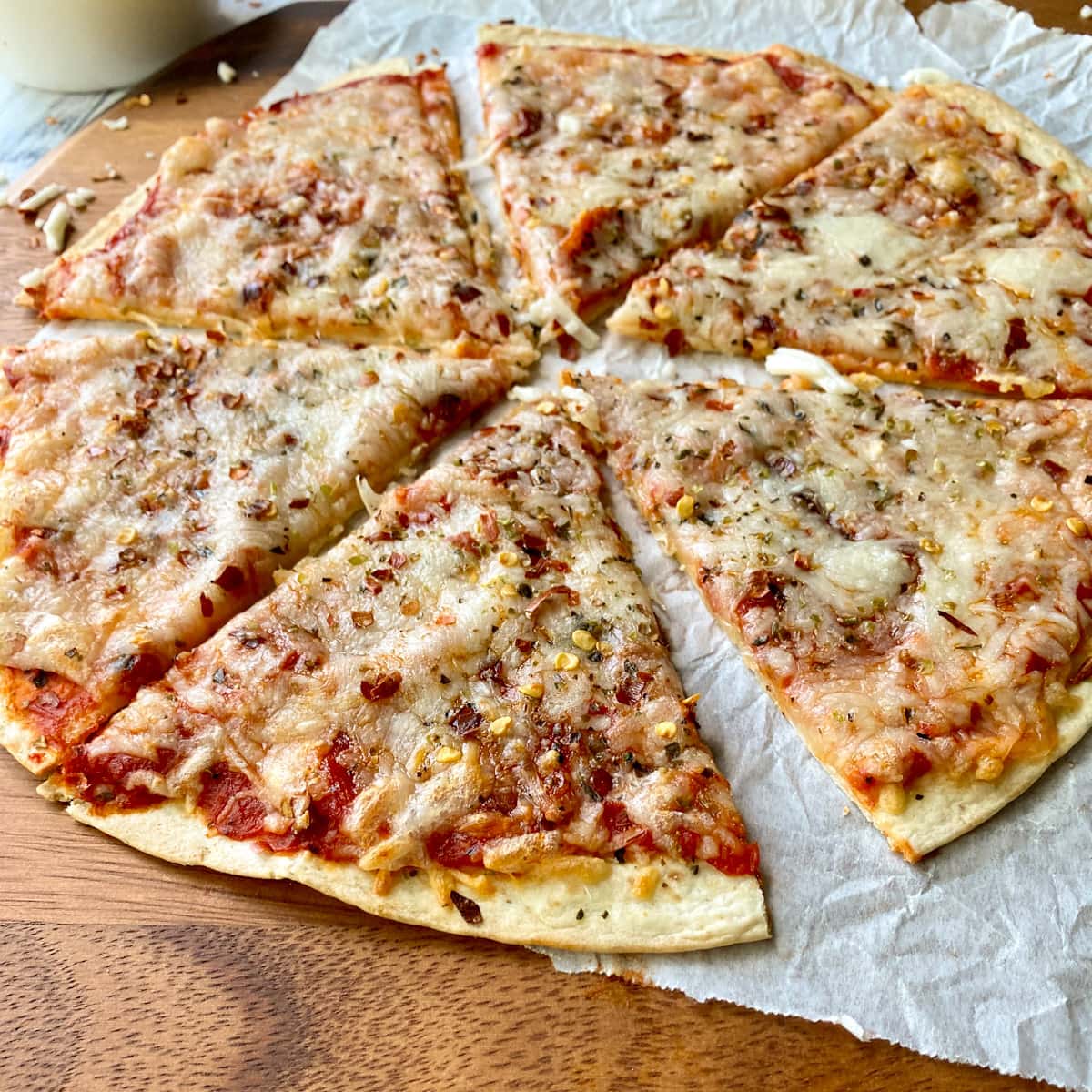 Topping Ideas
Here's some topping ideas for the pizza. Use up to 2 tablespoons of toppings; any more than that will make the pizza soggy.
Pepperoni
Sausage
Pineapple
Canadian Bacon
Green peppers
Onions
Mushrooms
Variations
There are so many variations and substitutions that can be made for this air fryer tortilla pizza. It's almost impossible to mess up, as long as you don't over cook it. Here's some ways to make it your own!
Make it gluten free: use a gluten free tortilla. The Mission brand tortilla carries an excellent tortilla that holds up well and is not crumbly.
Swap out the sauce: replace the pizza sauce with olive oil, alfredo sauce, hot sauce or cream cheese for a different type of pizza.
Make a BBQ Chicken Pizza: use BBQ sauce in place of red sauce. Top with cheese and leftover chicken.
Make a Taco Pizza: use salsa as the sauce. Top with cheese and taco meat.
Expert Tips
Assemble the tortilla pizza inside the air fryer. It's very difficult to lift the pizza once it's been assembled, so making it inside the air fryer will prevent you from losing any toppings.
Place the cheese on last. This will prevent your toppings from flying around when the air fryer turns on.
Don't overcook! The pizza burns easily, so be sure to check it after 3 minutes.
Be sure to preheat your air fryer. This helps ensure that the crust gets crispy and the toppings cook evenly.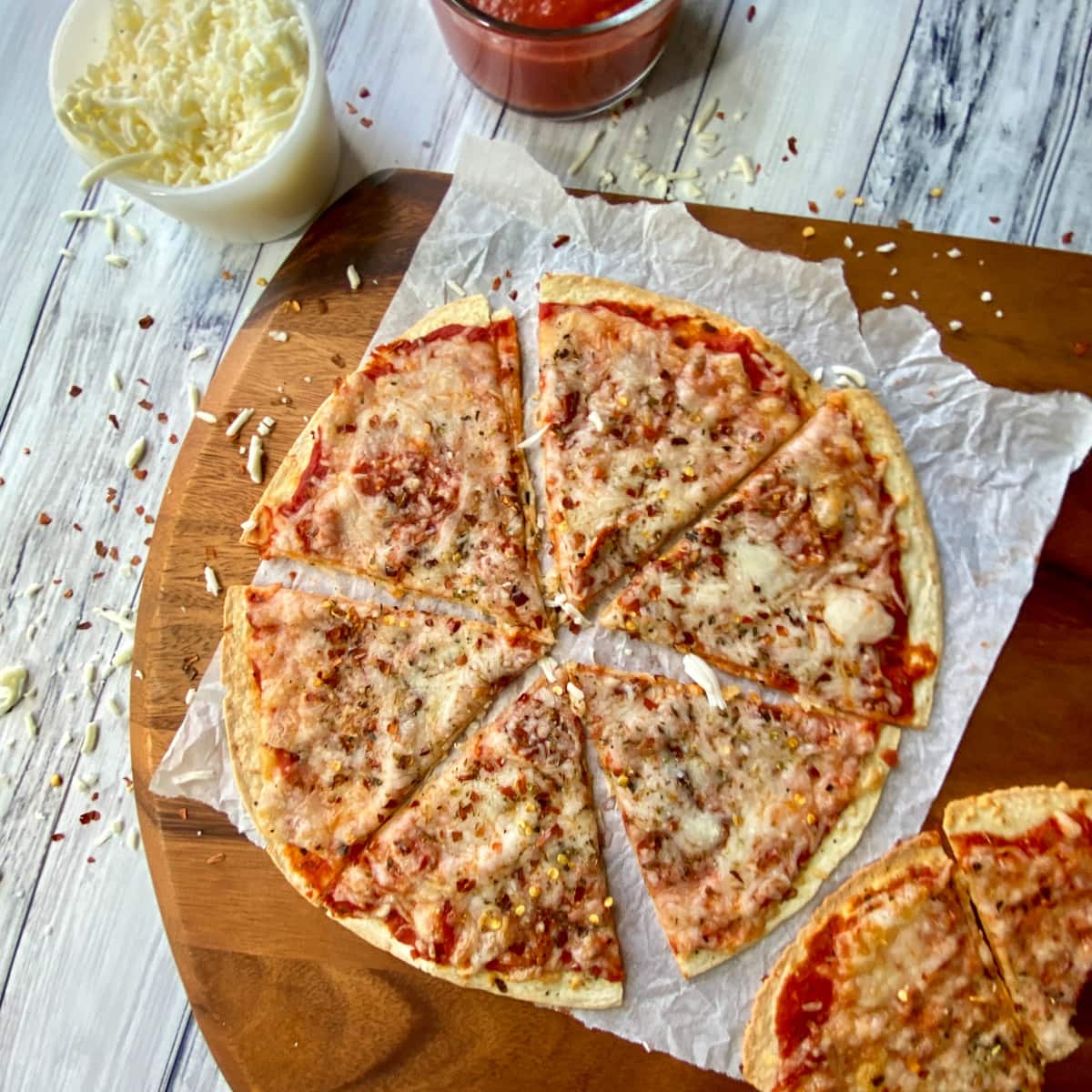 Make it Healthier
This pizza provides a lot of food for the amount of calories it contains. A typical slice of cheese pizza contains 285 calories. This entire pizza contains about 280 calories (depending on the brand of tortilla used). Basically, you get more "bang for your buck".
Here some ways to make the tortilla pizza healthier:
Use a 100% whole wheat tortilla. Mission brand makes an excellent whole wheat tortilla.
Top it with veggies: onions, green peppers, olives, spinach.
Add some cooked, chopped chicken- this would add some extra protein.
Limit the toppings that are higher in calories and fat, such as sausage, pepperoni and bacon.
Use half the amount of cheese and load on the veggies.
Make it For A Crowd
This recipe is perfect for a make your own pizza night! Simply lay out all ingredients and let participants top their tortillas with whichever pizza toppings they desire.
This recipe makes one serving. Double, triple, or so on all the ingredients to make more servings. You can easily make about 7 -8 pizza's by using 1 bag of cheese, 1 can of sauce and 1 bag of tortillas.
More Easy Recipes
Air Fryer Tortilla Pizza
Easy Air Fryer tortilla pizza is a quick and easy 5 minute recipe. The air fryer helps to make the crust crispy and cooks it in no time! This is kid friendly and family friendly!
Ingredients
1

flour tortilla

(10" works best)

2

tablespoon

pizza sauce

¼

cup

mozzarella cheese

red pepper flakes

optional

oregano

optional
Instructions
Preheat air fryer to 400 F.

Once air fryer is preheated, spray with non stick spray. Place the tortilla in the bottom of the air fryer.

Spread the pizza sauce evenly on the tortilla. Leave about ¼ inch space from the edges.

Add toppings. Top evenly with shredded cheese

Sprinkle oregano and red pepper flakes over the top if desired.

Cook for 3 minutes, check for doneness. The pizza is done if brown and bubbly. Cook for 1 additional minute if it's not done.

Use 2 spatulas to remove from the air fryer, let sit for 1 minute prior to cutting.
Notes
Toppings suggestions: 
Pepperoni
Sausage
Mushrooms
Onions
Bell peppers
Pineapple
Chicken
Tip: add cheese last, after adding the toppings to prevent them from flying around in the air fryer.
Nutrition
Calories:
170
kcal
|
Carbohydrates:
17
g
|
Protein:
10
g
|
Fat:
7
g
|
Saturated Fat:
4
g
|
Polyunsaturated Fat:
1
g
|
Monounsaturated Fat:
2
g
|
Cholesterol:
18
mg
|
Sodium:
536
mg
|
Potassium:
150
mg
|
Fiber:
2
g
|
Sugar:
3
g
|
Vitamin A:
265
IU
|
Vitamin C:
2
mg
|
Calcium:
267
mg
|
Iron:
1
mg