Pizza quinoa bites are a delicious way to use up leftover quinoa. The quinoa bites are loaded with Italian flavors, and taste similar to pizza. This recipe is loved by both kids and adults!
Note: There are links on this site that are "affiliate links". This means that I may receive a small commission if you subscribe or purchase something through the links provided.
Quinoa Pizza bites are such a fun and unique appetizer to bring to a party! They pair great with any of these gluten free party foods! They also taste great as a snack or even as a meal option. This is the perfect way to use up any extra quinoa you may have on hand.
This recipe is great for kids. Include your kids by letting them choose their own toppings and designating several quinoa bites just for them! (similar to make your own pizza).
If you're looking for more unique pizza recipes, be sure to check out this crustless pizza bowl and this cottage cheese pizza!
Variations
Mix Up The Add-In's
Any type of pizza topping will work in the pizza quinoa bites. Use up to ½ cup total of toppings. If using these toppings in addition to pepperoni, use half the pepperoni and add up to ¼ cup of additional toppings:
Sausage crumbles
Black olives
Hamburger Crumbles
Mushrooms
Onions
Sun Dried Tomatoes
Extra Cheese
Dipping Sauce
The quinoa bites taste best when dipped in a sauce. Here's a few of my favorites!
Marinara Sauce
Ranch
Pesto
Nutrition Information
These quinoa bites contain 55 calorie per piece and 3 grams of protein per piece.
Note: nutrition facts may vary based on brand of ingredient used.
These pizza bites contain quinoa, which is packed with protein and minerals. Read more about the health benefits of quinoa!
Add In Some Veggies
Easily sneak some veggies into these quinoa bites! Add ¼ cup of your favorite veggie. I would recommend dicing the veggies in to small pieces (¼ inch or smaller). Some vegetables, such as carrots, would be best cooked prior to adding them to the quinoa bites.
Add up to ¼ cup of any of the below vegetables:
Carrots (cook first)
Spinach chopped into small pieces
Broccoli that is diced, stems removed
Mushrooms
Tomatoes
Zucchini (cook first and pat dry with paper towel to remove excess liquid)
What's in Pizza Quinoa Bites?
Quinoa: Quinoa should be cooked first. Any color of quinoa can be used-- brown, red or white.
Egg: Binds everything together
Shredded Mozzarella Cheese: Adds a cheesy flavor. Sub with cheddar cheese if desired
Parmesan Cheese: use the grated Parmesan cheese that comes in a plastic container
Seasonings: don't forget these! They provide an Italian flavor to these tasty quinoa bites.
Pepperoni: use turkey pepperoni for a healthier option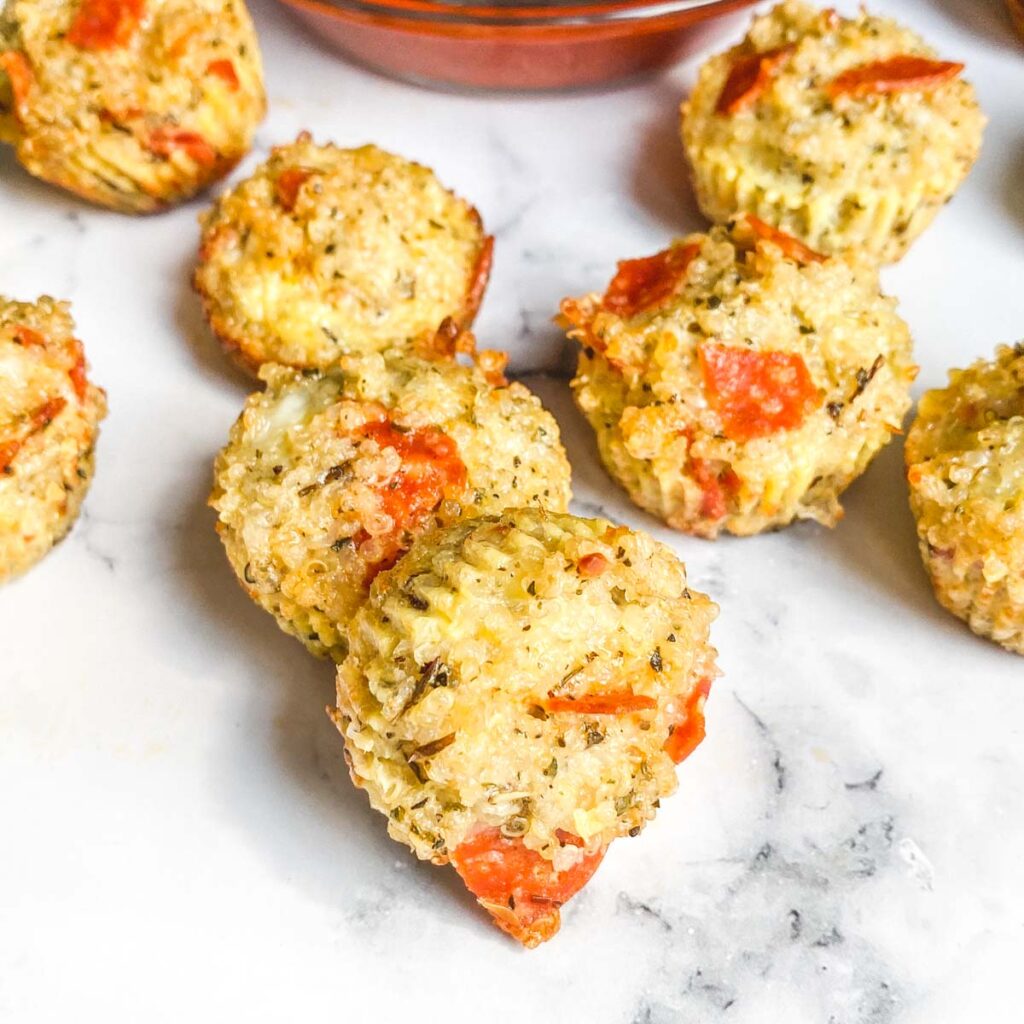 How to Make Pizza Quinoa Bites:
Combine the cooked quinoa with all spices and cheese.
Beat the egg, add to the quinoa. Mix well.
Add in the pepperoni or other desired toppings.
Fill the muffin tins: the mixture will be crumbly, this is normal. Fill the muffin tins to the top. Gently pack in the quinoa mixture using the back of a spoon.
Tips To Make The Best Quinoa Bites
Use mini muffin tins and grease them generously with pan release spray. This recipe has been tested with muffin liners and without muffin liners. It is recommended to not use the liners; the quinoa mixture tends to stick to them.
The mixture will be slightly crumbly prior to cooking- this is normal.
Add your favorite pizza toppings. Not a fan of pepperoni? Add sausage crumbles instead.
More Family Friendly Recipes
Pizza Quinoa Bites
Pizza quinoa bites are a delicious way to use up leftover quinoa. The quinoa bites are loaded with Italian flavors, and taste similar to pizza.
Ingredients
1.5

cups

quinoa

cooked

1

large

egg

1

tablespoon

Italian Seasoning

1

teaspoon

garlic powder

1

tsp

onion powder

½

teaspoon

salt

20

pepperoni

1.25

cup

mozzarella cheese

¼

cup

Parmesan cheese
Instructions
Preheat oven to 375 F. Grease a mini muffin tin using non-stick pan release spray.

In a large bowl, combine cooked quinoa, Italian seasoning, garlic powder, onion powder, salt, Parmesan cheese and mozzarella cheese. Mix until combined.

In a separate bowl, beat egg lightly with a fork until mixed.

Add egg to the quinoa mixture and mix until combined.

Chop the pepperoni into quarter's. Add to the quinoa mixture and mix until combined.

Pour quinoa into the prepared muffin tins and fill all the way full.

Bake for 15 minutes. Serve with marinara sauce. Enjoy!
Notes
Note: ½ cup of dry quinoa will yield about 1.5 cups of cooked quinoa
Nutrition
Recommended Products