Cottage cheese pizza is a new and unique pizza idea! This is a white pizza that's topped with cottage cheese, spices and a blend of two different cheeses. The cottage cheese is blended until smooth, and adds a layer of extra creaminess to the pizza!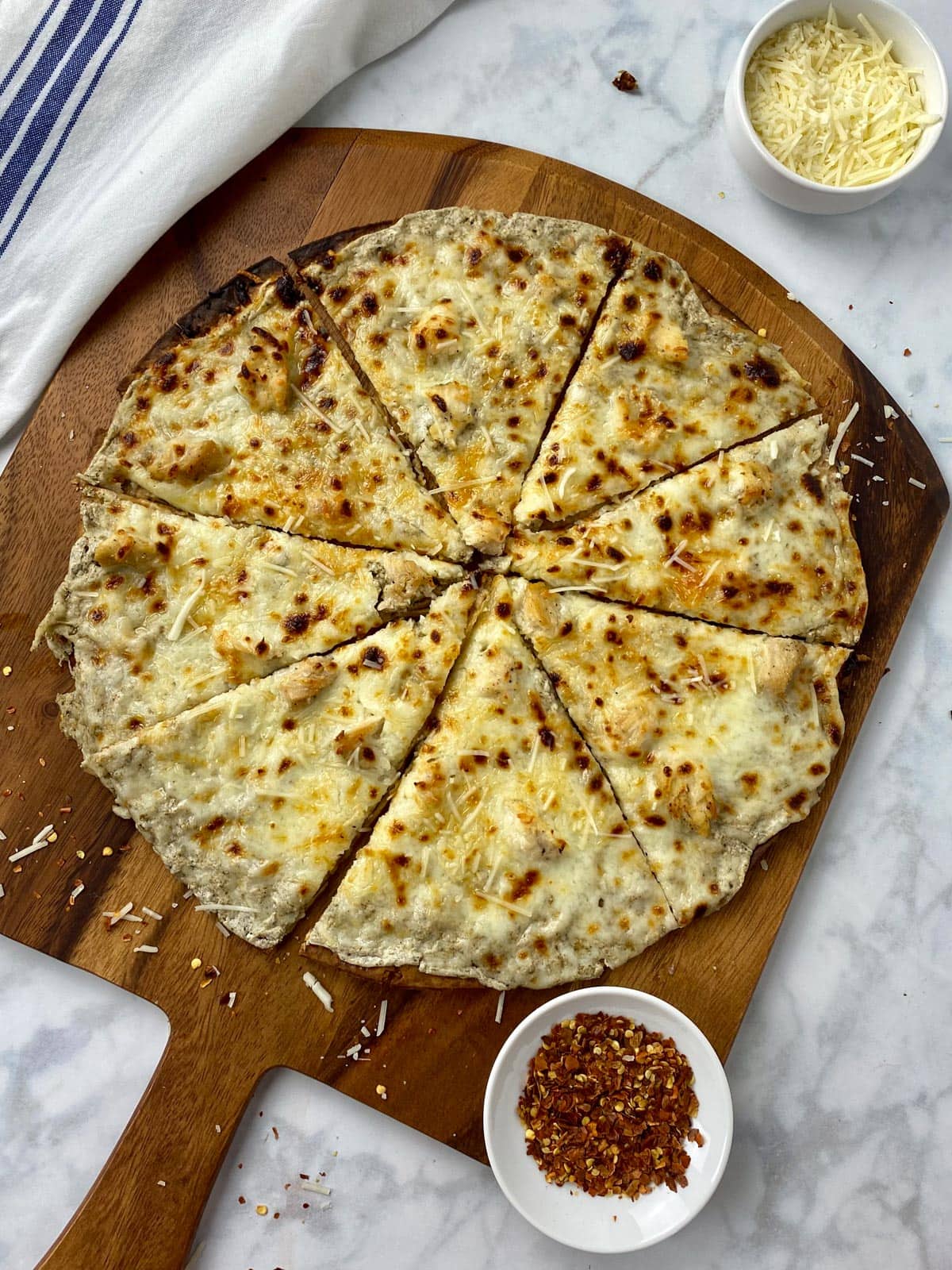 Adding cottage cheese to your pizza creates a creamy, melt-in-your mouth dish. While some people prefer to use cream cheese, using cottage cheese is actually lower in fat and calories, yet still creates an extra cheesy pizza.
I've now been making this cottage cheese pizza recipe on repeat for pretty much every time we eat pizza. It is one of my husband's absolute favorites. The concept is original, yet the flavor is phenomenal.
Looking for more QUICK and EASY pizza recipes? Check out my easy tortilla pizza recipe or this low carb crustless pizza bowl!
Jump to:
Reasons to Love This:
Adding cottage cheese to your pizza creates a creamy, cheesy pizza!
This is an easy way to switch up your normal pizza night
The cottage cheese adds an extra 3 grams of protein per slice of pizza
Calorie conscious? The cottage cheese is lower in fat and calories than alternatives, such as cream cheese
Ingredients Needed
Ingredients Notes
Pizza Crust: Choose a pizza crust of your choice. I choose a precooked pizza crust purchased from the store, however homemade crust will also work. The ingredient amounts work well with a 14-inch pizza crust. You could probably stretch it and use a 16-inch crust, or do 2, 8-inch crusts.
Chicken Breast: any form of cooked chicken breast will work. Some ideas are baked chicken breast cut into 1 inch cubes, leftover chicken that has been grilled and cut into pieces, or rotisserie chicken breast that has the skin/bone removed and cut into pieces.
Olive Oil: use a good quality, extra virgin olive oil. The brand California Olive Ranch is a good brand and is sold at Walmart stores.
Cottage Cheese: alternatives are low fat or fat free cottage cheese. The cottage cheese is blended so you can't even tell it's on the crust.
Spices: Garlic, Basil, Oregano, Salt and Pepper- the spices all add flavor to the pizza.
Mozzarella Cheese: choose shredded, mozzarella cheese.
Parmesan Cheese: use the fresh, shredded parmesan cheese that's sold in the refrigerator aisle for best results.
See recipe card for full information on ingredients and quantities
Toppings Variations
Spinach, chicken and cheese: add a bag of fresh spinach and olive oil to a medium sauce pan. Cook until wilted and soft. Cut into small pieces with kitchen scissors. Mix with 1 cup of cooked chicken cubes and sprinkle on the pizza.
Arugula and prosciutto: Cook the pizza as outlined in the instructions. Once cooked, add 1 cup of thinly sliced prosciutto and 4 ounces of arugula leaves to the top.
Meat lovers: pepperoni, sausage, diced ham, Canadian bacon. Add a total of 1.5 cups of meat toppings.
Substitutions
Crust: you can use a homemade crust in place of a store bought crust, just make sure to adjust the cooking time.
Gluten Free: Make this a gluten free pizza by using a gluten free crust. I love the UDI's brand 8 inch gluten free pizza crusts.
Cheese: The mozzarella cheese can be substituted with a four blend Italian cheese. You can also use a low fat cheese or a cheese that has been made with 2% milk. Note: Cheese that is 100% fat free tends to melt differently than normal cheese. I have not noticed any difference with low-fat cheese, however.
Step By Step Instructions
Step 1: Preheat the oven to 400F. Spray a large cookie sheet or pizza pan and place the crust on the pan.
Step 2: Combine the cottage cheese, olive oil and spices in a blender. Blend until smooth. You may have to scrape down the sides a couple times to get everything mixed. This works best in a small blender, such as a magic bullet. You could also use a food processor if it is a small version.
Step 3: Spread the blended cottage cheese evenly over the crust, leaving about a ½ inch space around the edge. There may be a little bit of extra cottage cheese leftover.
Step 4: Top with the diced, cooked chicken. Add any other toppings if desired, such as Canadian bacon, pepperoni, green peppers or black olives.
Step 5: Top evenly with the mozzarella cheese and parmesan cheese.
Step 6: Bake in the oven!
CHEF'S TIP: To get the golden brown spots that you often see on pizza, broil the pizza for 1-2 minutes. Cut using a pizza cutter. Serve warm.
Expert Tips
I have made this pizza with multiple crust sizes, including 14 inch, 16 inch and 2, 8 inch crusts. I recommend using a 14-inch crust. You may have a couple extra tablespoons of cottage cheese sauce leftover, so this recipe would easily work with a 16-inch crust or 2, 8 inch crusts.
The cooking time is based on a Boboloni brand pizza crust. Double check your crust package to see how long to bake it for. The pizza will take longer to cook if you use a homemade crust or store bought dough that has not been cooked.
Make it spicy by adding some crushed red pepper flakes to the top!
Meal prep tip: make a double batch of the cottage cheese sauce. Use half for your pizza and store the other half in the freezer in a zip lock bag, that way you have it ready to go next time you make pizza! I have done this before and you can't even tell that it was frozen.
Leftovers
Refrigerator: Store the leftovers in an airtight container. Eat within 2 days. To reheat, heat in the microwave in 15 second intervals until warm.
Freezer: Wrap the pizza in foil and store in an airtight zip lock bag. Store for up to 2 months. Please note, the quality of the pizza, in particular the crust, will not be as good as it is when fresh. It is still safe to eat, however!
Recipe Video
Recipe FAQs
Can I meal prep this recipe?
This pizza can be partially made the night before. I would recommend blending the cottage cheese, oil, spices and then storing in the refrigerator for up to 3 days.
Can you substitute cottage cheese for ricotta on pizza?
Yes, you can substitute cottage cheese for ricotta on pizza, but be aware that cottage cheese has a different texture and flavor, so the final result may have a slightly different taste and consistency. It can work well in some pizza recipes, especially if you enjoy the creaminess of cottage cheese.
Does cottage cheese melt well?
Cottage cheese will add creaminess and texutre to the pizza. It is best to blend the cottage cheese in the blender to help it melt better.
What happens to cottage cheese when baked?
When cottage cheese is baked, it tends to retain its curd-like texture, and the moisture it contains may evaporate, making it drier and somewhat firmer. It doesn't melt and become gooey like some other cheeses, which makes it suitable for certain dishes that benefit from its unique texture, like lasagna or casseroles.
More Dinner Recipes
If you tried this Cottage Cheese Pizza recipe or any other recipe on my website, please please leave a star rating and let me know how you like it in the comments below. I love hearing from you!
Cottage Cheese Pizza
Cottage cheese pizza is an easy way to make your pizza extra creamy! The cottage cheese is blended, and you can't even tell it exists!
Ingredients
1

cup

cottage cheese

blended

1

tablespoon

olive oil

extra virgin

½

teaspoon

black pepper

1

teaspoon

oregano

1

teaspoon

thyme

½

teaspoon

dried basil

½

teaspoon

salt

2

teaspoon

minced garlic

½

cup

parmesan cheese

freshly grated

1

c

chopped chicken

cooked

1.5

cup

mozzarella cheese

shredded

12

inch

cooked pizza crust
Instructions
Add the cottage cheese, black pepper, oregano, thyme, dried basil, salt and minced garlic into a blender.

Blend on high for 30 seconds, or until smooth. Scrape down the sides of the blender with a rubber spatula as needed.

Place a pre-cooked pizza crust on a greased cookie sheet.

Spread the cottage cheese mixture in a thin layer evenly over the crust, leaving about ¼ inch of crust empty. (Note: you may have some leftover cottage cheese mixture depending on the size of crust used).

Top with shredded mozzarella cheese and shredded parmesan cheese.

Bake for 8-10 minutes. Turn the oven to broil and cook for 1 minute to get a slightly browned cheese topping.

Slice into pieces and serve warm.
Notes
Note: 
Use a precooked pizza dough crust. Check the back of the pizza dough crust for cooking instructions and follow those times/temperatures. The brand that I used suggested cooking at 400F for 8-10 minutes, however I've seen some pizza crusts that recommend cooking at a higher temperature. 
There may be leftover cottage cheese mixture depending on the size of pizza crust used. This recipe will work with a crust anywhere from size 8 inch - 14 inch, just know you may have some left over cottage cheese or may need more shredded cheese for the larger size crust.  
Nutrition
Calories:
282
kcal
|
Carbohydrates:
27
g
|
Protein:
15
g
|
Fat:
11
g
|
Saturated Fat:
5
g
|
Trans Fat:
1
g
|
Cholesterol:
34
mg
|
Sodium:
783
mg
|
Potassium:
128
mg
|
Fiber:
5
g
|
Sugar:
1
g
|
Vitamin A:
209
IU
|
Vitamin C:
1
mg
|
Calcium:
268
mg
|
Iron:
1
mg