Cowboy caviar is a popular dip in the Midwest. It is made up of black eyed peas, beans, colorful veggies and a flavorful dressing. Cowboy caviar makes the perfect party dip, appetizer or easy meal option!
Is Cowboy Caviar Healthy?
Cowboy caviar is a great source of fiber. This dip is loaded with beans, which provide an excellent source of fiber. It contains 7 grams of fiber per serving. More on fiber needs here! This dip also has 10 grams of protein per serving.
Another reason this is considered healthy Cowboy Caviar, is that the dressing does not contain sugar. A lot of cowboy caviar recipes contain up to ¼ cup of sugar. The flavor in the dressing is made up by using lime juice, apple cider vinegar and chili powder.
While most ingredients in this dip have excellent nutrition benefits, the biggest factor is what type of food is dipped into the caviar. Choosing a veggie, such as pepper strips or carrots will be much lower in calories than using chips or crackers.
Cowboy Caviar Nutrition Facts
Cowboy caviar makes about 16 servings worth of dip. There are 163 calories and 7 grams of protein in each serving of dip. Calories may vary based on brands of ingredients used.
Make This a Low Sodium Dip
There are 300 mg of sodium per serving in this dip. If you are on a low sodium diet or concerned about sodium intake, select canned beans and canned corn that are labeled "No salt added". Another option to reduce the sodium content of this dip is to use frozen corn and dried beans (see recommendations below).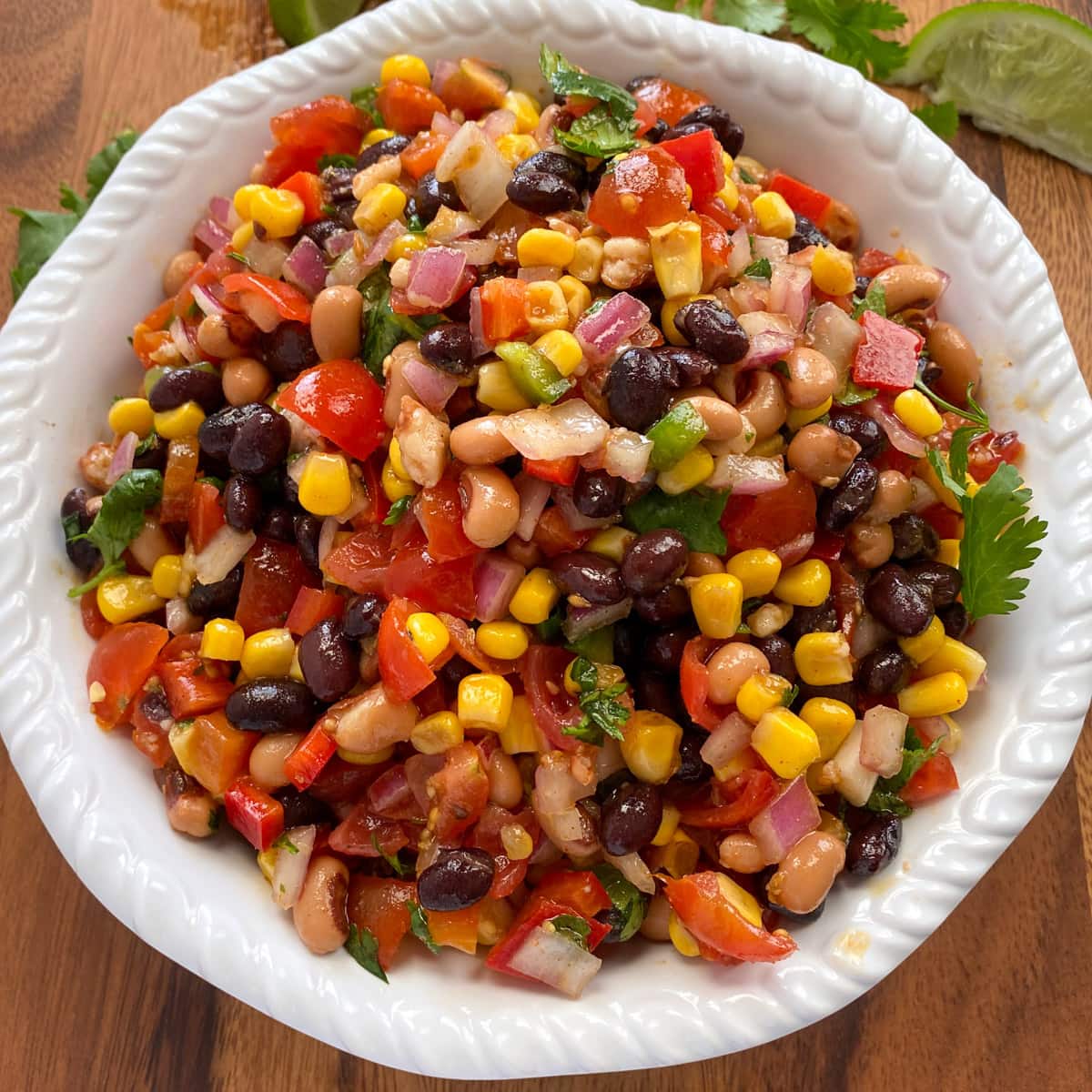 Leftovers
Cowboy caviar actually tastes best several hours after preparation, or even the next day after making it. This is because it gives time for the dressing to absorb into the dip and marinade to provide the best flavor. Store the dip in an airtight container for up to one week. It is not recommended to freeze this dip.
How to Eat Cowboy Caviar
This healthy bean dip tastes great when eaten in the form of a dip, however it can also be eaten as a topping, such as on top of a burger or over grilled chicken breasts. This dip would also go well with any Mexican entree, such as Instant Pot Chicken Fajitas or on top of a Chipotle Burrito Bowl.
Here's some common foods to dip into the Cowboy Caviar:
Tortilla chips
Carrots
Red pepper strips
Celery
Crackers (Wheat Thins, Triscuts, plain crackers)
Fritos
Cowboy Caviar Variations
This easy bean dip is versatile and has lots of ways it can be modified:
Use any color of bell pepper. Add a total of 1 pepper to the recipe.
Want more spice? Add an extra jalapeno or leave in several of the jalapeno seeds
Don't like onions? Leave out the onions and add double the bell pepper.
Dried Beans
This recipe calls for canned beans, however dried beans and black eyed peas would also work. Follow the cooking instructions on the package prior to adding them to the dip.
It will take about ¾ cup of dried beans to make up for each can of canned beans. This is because a 15 oz can of drained beans is about 1.75 cups of beans. ½ cup of dried beans yields about a cup of canned beans.
Make it Allergy Friendly
This dip contains very few allergens. Cowboy caviar is gluten free, dairy free and egg free. This easy dip recipe is a great option to bring to a gathering or a potluck, since it is an allergy friendly dish.
Ingredients
Black-Eyed Peas: Use canned, drained black-eyed peas. They are usually found in the rice & beans section of most major grocery stores.
Black Beans: Use canned, drained black beans. If concerned about sodium intake, choose beans labeled "No Salt Added" or use dried beans (see above instructions).
Sweet Corn: Use canned, drained corn or frozen corn (defrost prior to using). Do not use creamed corn.
Roma Tomatoes: Roma tomatoes work best. Don't worry about using all the juice and seeds that fall out when cutting them. Grape tomatoes can also be used, but will take a longer time to dice.
Red Onion: Red onion provides the best flavor to the dip.
Bell Pepper: Any color of bell pepper will work: green, yellow, orange or red.
Jalapeno: Leave in several seeds for a more spicy dip, or remove all seeds to make the dip a mild spice level.
Cilantro: Cilantro adds flavor. Use fresh cilantro only. Wash and remove stems prior to adding to dish.
Dressing: Olive Oil, Lime Juice, Apple Cider Vinegar and Chili Powder: This blend of oils and spices makes the perfect dressing!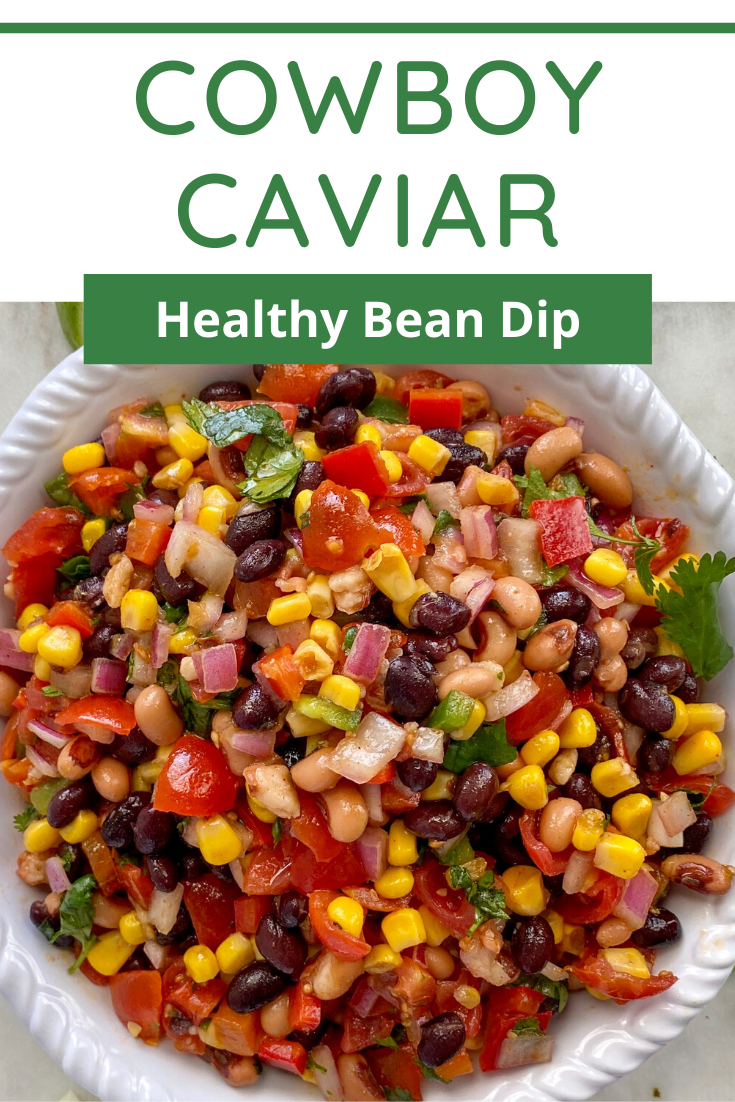 More Mexican Recipes
Healthy Cowboy Caviar
Cowboy caviar contains black eyed peas, beans, colorful veggies and a flavorful dressing. This healthy bean dip makes the perfect party dip, appetizer or easy meal option!
Ingredients
1

can (15 oz)

black eyed peas

drained and rinsed

1

can (15 oz)

black beans

drained and rinsed

1

can

sweet corn

drained and rinsed

1

pound

roma tomatoes

diced (about 6 tomatoes)

1

red onion

diced

½

cup

green bell pepper

diced

½

cup

red bell pepper

diced

1

jalapeno

seeds removed and diced

1

cup

cilantro

chopped
Dressing
⅓

cup

olive oil

extra virgin

¼

cup

lime juice

2

teaspoons

apple cider vinegar

1

teaspoon

chili powder
Instructions
In a large bowl combine the drained black-eyed peas, beans, corn, diced tomatoes, diced onion and chopped bell peppers. Mix.

In a separate bowl, combine the olive oil, lime juice, apple cider vinegar, chili powder and salt. Whisk until combined.

Pour over the bean mixture. Mix gently.

Mix in cilantro. Store in an airtight container and serve cold.
Notes
Cowboy caviar tastes best cold and after it all of the ingredients have time to soak or marinade in the olive oil dressing. For best results, refrigerate for 4 hours prior to serving. 
Substitute a whole red pepper or whole green bell pepper instead of ½ cup of each. 
Feel free to replaced frozen corn in place of the canned corn. 
Nutrition