Did you know that it IS possible to eat healthy while vacationing? ????? I spent the past weekend on the beach and I'll admit--the temptation was real! Between seeing mouthwatering pictures of brownie a la mode on the menu to reading the menu description of a juicy steak with buttery potatoes, I wanted it all. At the same time, spending a week in a swimsuit walking around like a bloated beach whale wasn't on the top of my priority list either ????.
Eating healthy on vacation
Usually I strive to eat at least one healthy meal per day while on vacation so that I don't feel as guilty about splurging on the cocktails and desserts later. ???? Limiting the calories in one meal allows me to consume them at another meal. A lot of restaurants are very accommodating to make modifications to your menu if requested. Some restaurants even have a "healthier or lighter fare" menu which can be a great alternative.
Here's a couple tips to eat healthy while on vacation:
Order your meats grilled, not breaded. Usually if a food is breaded it means it has been deep fat fried. Save yourself 300-400 extra calories by opting for grilled.
Just say NO to the empty calories (butter, sour cream). Beware of the sides that come with extra topping (example mashed potatoes). Ask for plain potatoes with toppings on the side so that you can control the amount of adding calories.
Skip the appetizers. This one is self explanatory: save your self the money and extra calories by limiting the appetizers.
Choose veggies as a side (sorry, French fries don't count as a side!)
Beware of the bread brought before the meal. A couple slices with butter can add an extra 400-500 calories per meal
Limited added sauces. Resist the urge to drench every single item in Ranch dressing or honey mustard- these can add an extra 100-400 calories. If you are really craving a sauce, opt for a lower calorie option such as buffalo sauce, mustard or a light Italian dressing.
Be aware of how many calories your consuming throughout the day. Know your goal and try to keep a rough estimate in your head. If you need assistance, this book is great: it has a very comprehensive list of calories, protein and fat for different foods and fast food meals.
Use different tools to monitor your calories. An app, restaurant website or calorie counter are great resources!
Following these tips can save 1000+ calories during meal time!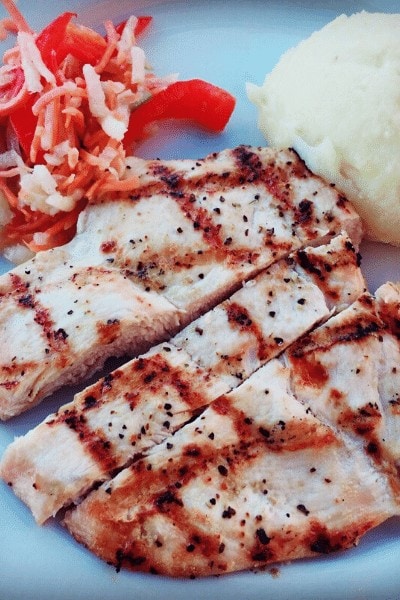 This is a picture of the "lighter fare" option I ordered--grilled chicken seasoned with pepper, mashed potatoes without extra toppings and peppers mixed with carrots.
Other Ways to Stay Healthy:
More Health Articles